Big surprise here: even in the gym I'm nerding out hard…
I'm in the middle of writing a more thorough post on the habits and health hacks I've developed to go from a 270 lb couch potato to a … more in shape version of myself, but in the meantime I'm dropping my workout split here.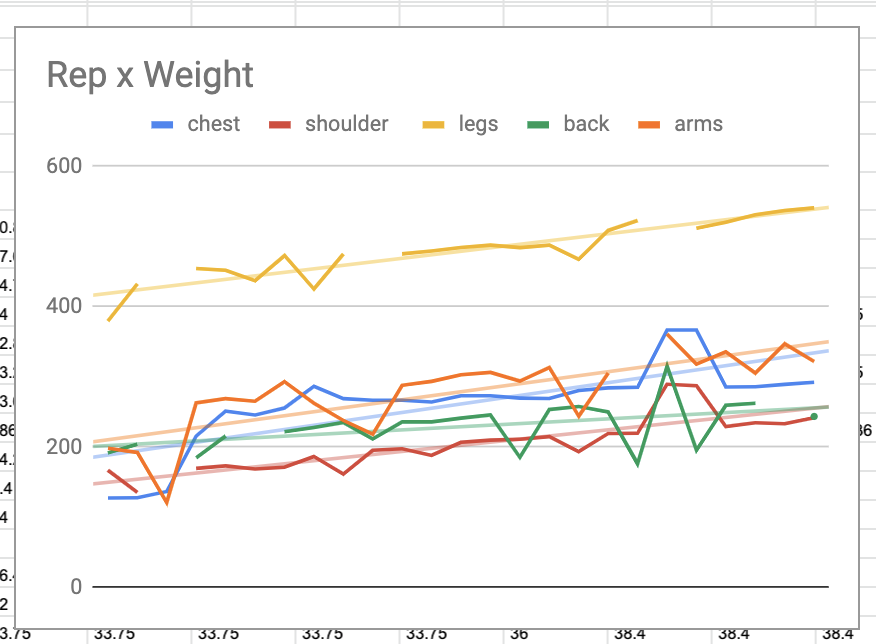 That is, for the last year, I've been tracking every workout: every exercise, set and rep and their weights/intensities. It's turned into a pretty massive data collection exercise. If you're a numbers nerd like me, here are the raw sheets, still figuring out how to qualify, measure and predict based on these results.
Jan 2019 – present:
https://docs.google.com/spreadsheets/d/1hNf_bgnm45J7BR-Z-lhWJJb_vam-mQZ12qKyEAnjQUs/edit?usp=sharing
Dec 2017 – Jul 2018:
https://docs.google.com/spreadsheets/d/1sLbCtVHdq6eG08OhBDaygeRgjj_Yal6FERP3LZEniC8/edit?usp=sharing
(For consistency, the idea is that you are able to perform every rep, but are failing/close to failure by the end of the set.)